Trembita system has reached the 3 billion transaction milestone while continuing to support secure and fast interaction between state registries and information systems. It has enabled millions of Ukrainians to receive services online and use electronic documents.
Trembita was launched in 2020. Back then, the first data exchange was established between the National Health Service of Ukraine and the State Service of Ukraine on Medicines and Drugs Control under the Affordable Medicines programme. To date, 201 state and local authorities have already joined the system. In addition, 83 electronic information resources have been connected, and more than 300 electronic interactions between registers have been built.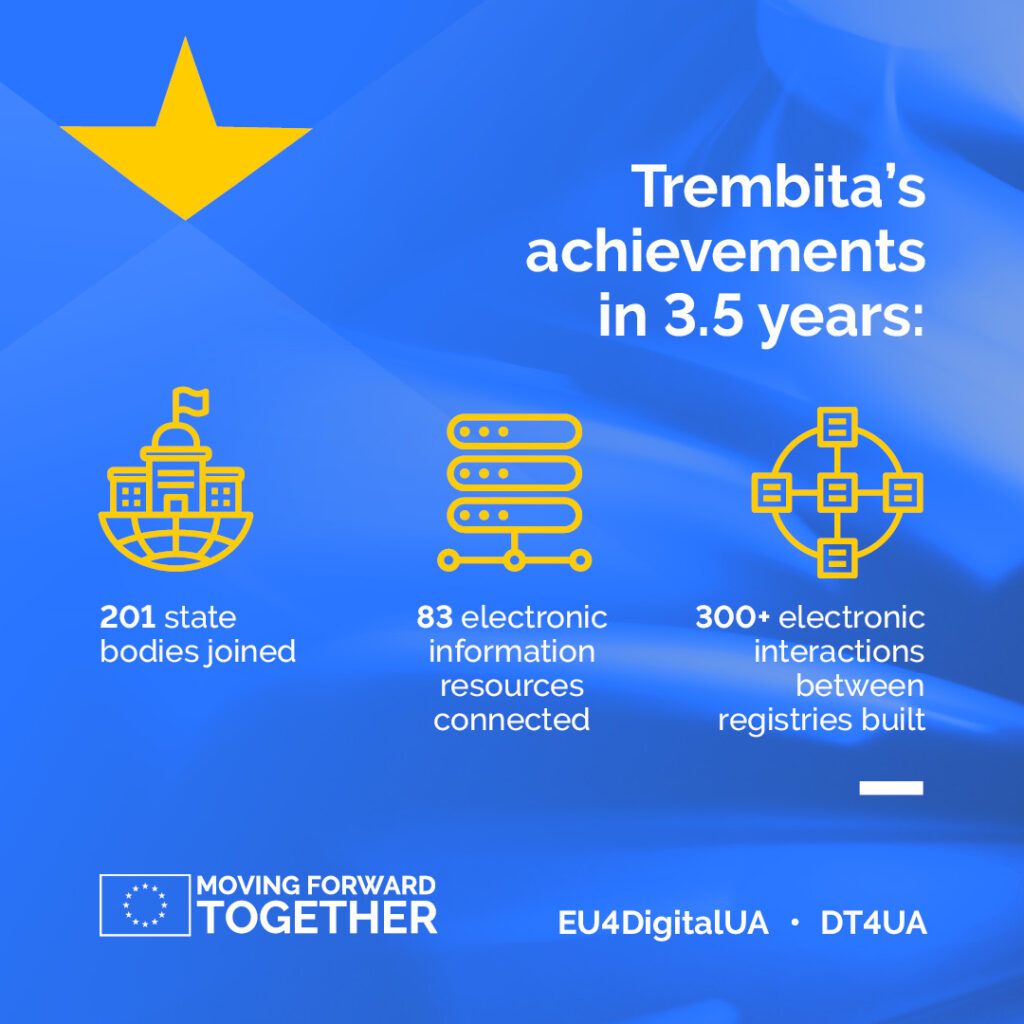 In three and a half years, Trembita has provided millions of essential services without the paperwork or visits to government agencies. For example, since the launch of the e-Baby service in 2020, Trembita has registered more than 385,000 newborns. It transmitted data for 251,500 Ukrainians to receive their first passport and identification code as part of the ID14 service. And from the beginning of this year, Trembita has been involved in the formation of new families. Since the launch of this service, it has facilitated more than 7,000 marriage applications.
Since the launch of the system, the most popular electronic information resources in terms of the number of requests have been:
State Register of Individual Taxpayers – more than 1.2 billion requests
State Register of Civil Status Acts of Citizens – more than 545 million requests
Automated Enforcement System – more than 350 million requests
Electronic Healthcare System – over 204 million requests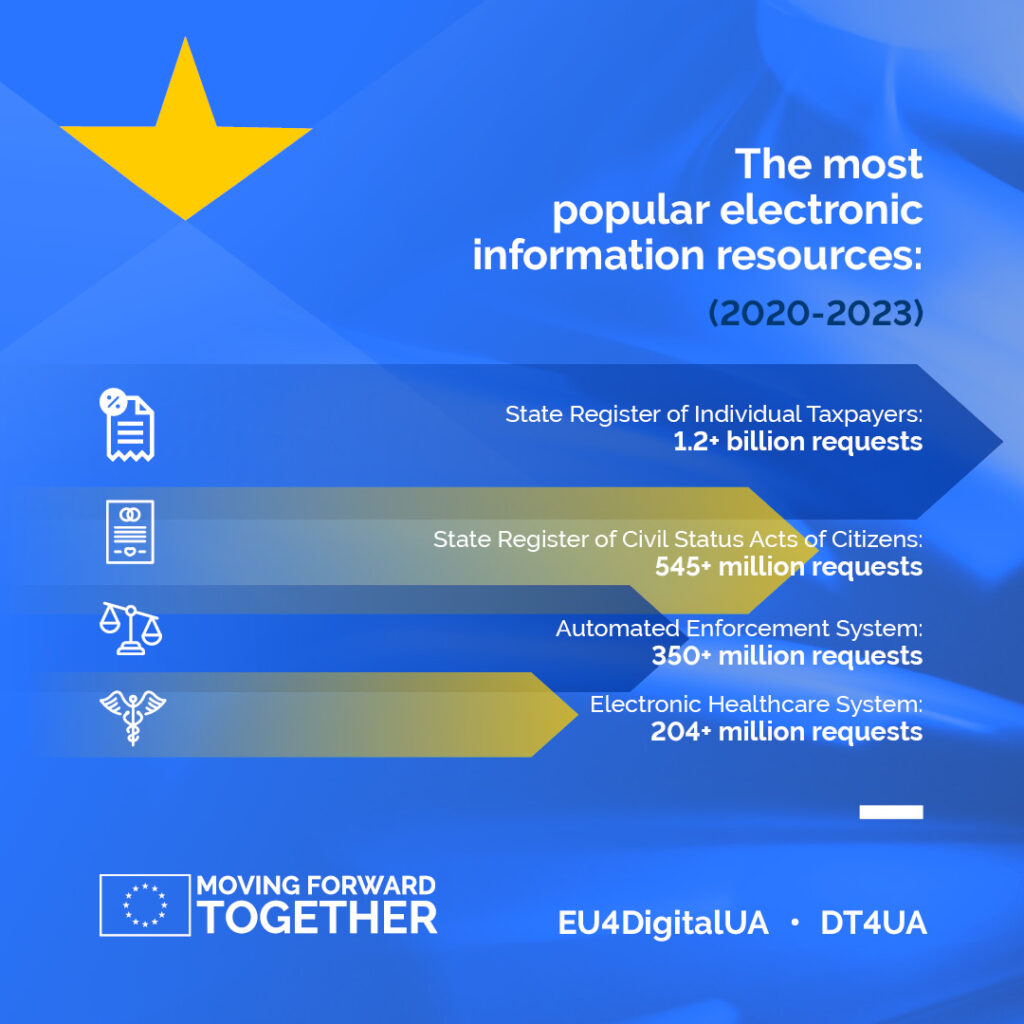 Thanks to Trembita, data is running more and more, not people. Since the system's launch, the most popular interactions were between Diia portal/application and:
State Register of Individual Taxpayers, over 698 million transactions. Diia uses this interaction to verify and display the identification code.
Automated system of enforcement proceedings – over 327 million transactions. Using this interaction, citizens can find out if there are any open enforcement proceedings against them.
State Register of Civil Status of Citizens – over 309 million transactions. With the help of this interaction, the Diia portal and mobile application provide information on birth certificates and records.
Electronic Healthcare System: over 162 million transactions. Thanks to this interaction, Ukrainians can access COVID-19 vaccination certificates in Diia.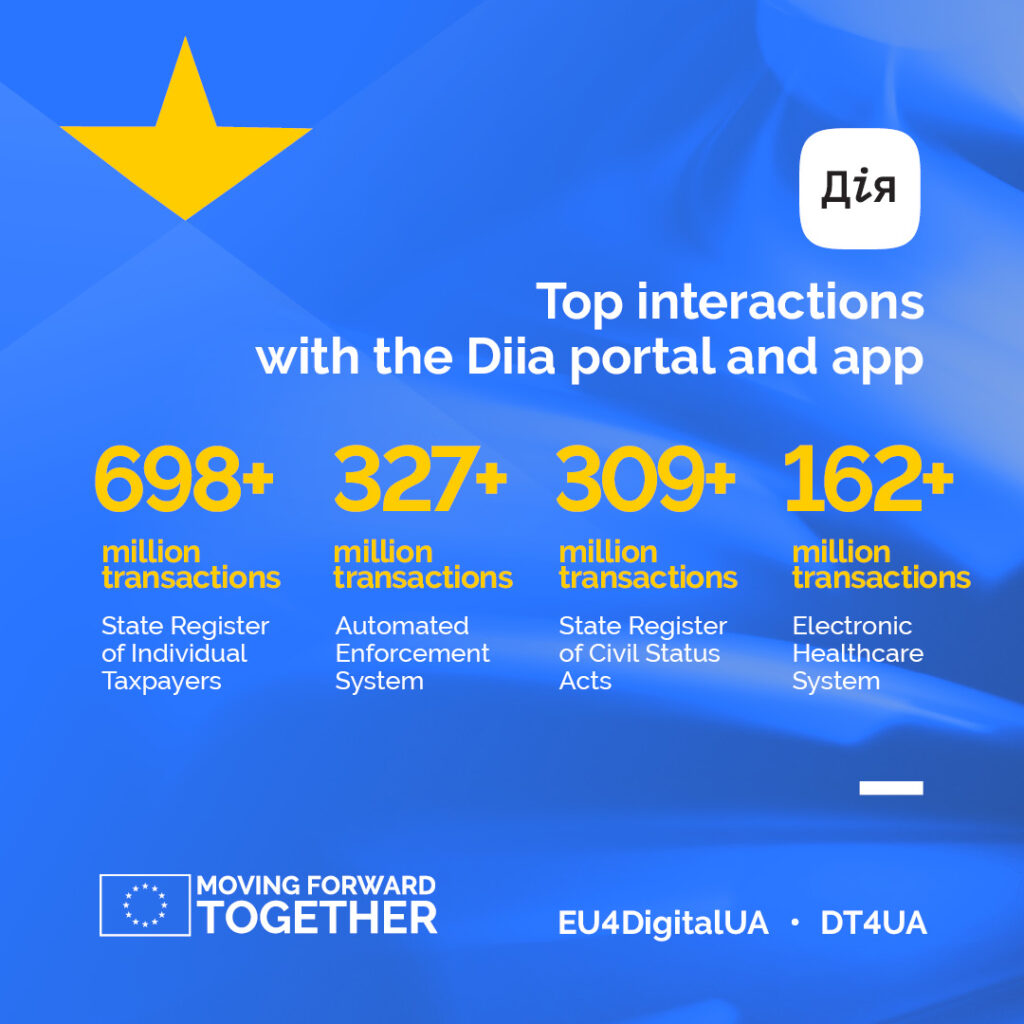 Trembita was developed based on the Estonian data exchange platform X-ROAD within a framework of the international technical assistance project EGOV4Ukraine. It is currently being actively developed with the support of the European Union within the EU4DigitalUA and DT4UA projects.